Hello, I'm Taro.
I share information about outdoor gears!
When you go camping, it is better to bring knives with you! You can break firewoods, make feather sticks, or cut something with them!!
Then, I recommend full tongue knives, which have blades penetrating whole grips with its constant thickness. That's why full tongue knives are tough and don't break easily!!
Helle  Didi Galgalu(ディディ ガルガル)
Tough and good looking full tongue knife
Helle (Maker)
Helle is a knife maker funded in 1932 in Norway. Helle is famous for its high quality handmade knives. The grips are basically made of wood, and knives have the exceptional textures.
Helle has many types of knives, actually 35 knives with variation of blades and grips. You can access easily to these knives by online shops like Amazon or Rakuten.
You can check the knives below Hele's homepage!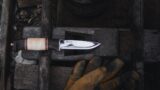 Classic Helle Outdoor Knives – Helle Knives
Helle outdoor knives are handmade outdoor knives made in Norway. Our outdoor knives are high quality stick tang and suited for bushcraft, hunting and carving.
ナイフ【Didi Galgalu】
In the many types of Helle's knives, I felt Didi Galgalu is the simplest and it has the standard shape! This knife is known to be used by Japanese camping YouTuber, Mr.Hiroshi.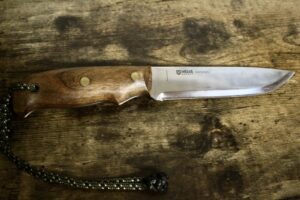 blade material stainless steel
blade length 12.9 cm
blade thickness 3.0 mm
grip material wood
grip length 12 cm
case material genuine leather
weight 193 g
price 24,600円(Aug. 2020)
The design of blade is simple "HELLE Didi Galgalu、made in Norway" characters and logo.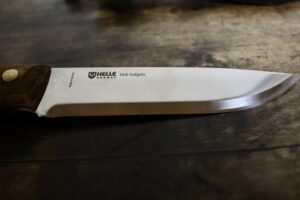 The grip is easy to hold on, and used high quality wood.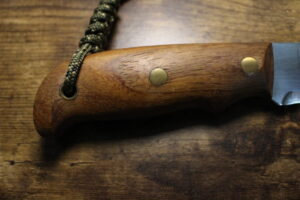 The blade penetrate whole grips with its constant thickness(full tongue knife).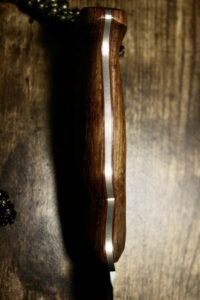 Being strong against impact, full tongue knives are good for chopping wood!!
Though I've used this knife for many years, I don't find any disadvantages.
Lanyard(Weaved cord)
Lanyard is cords with knives.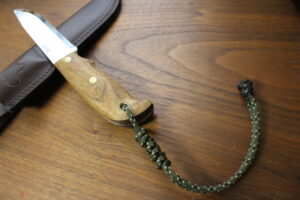 When you hold a knife, you can prevent from falling the knife with the cord hanging by a hand.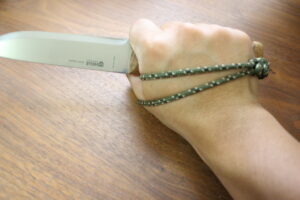 I use Mont-Bell's paracords.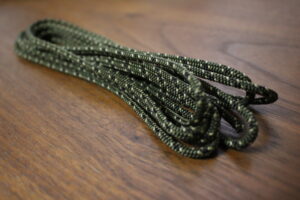 I love this color, so I rap this paracords around my Hultafors's axe!
Check this out!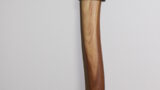 キャンプ斧【Hultafors オールラウンド】
スウェーデンの老舗メーカーHultaforsの斧の紹介。クラシックで味わい深い斧でありながら手頃な値段で購入できるおすすめの斧です。パラコードをヘッド近くの柄の部分に巻くことで、柄を保護でき、自分の好きな斧にカスタマイズできます。
First of all, pass the paracode through the hole of the end of the grip.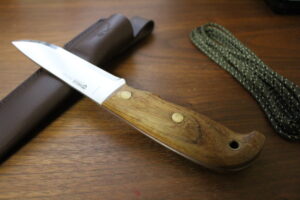 This is named Snake Knot.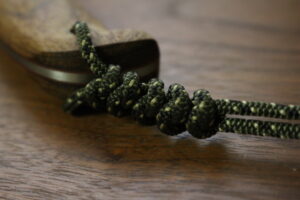 I could make the beautiful snake knot easily!!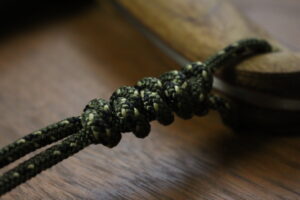 In the end, make two snake knot at the end of the lanyard, and warm in the writers. That's it!!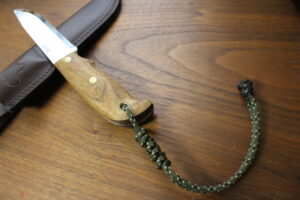 まとめ
handmade knife made by a Norway maker
simple and standard type of blade and grip
full tongue knife being good for chopping wood
customize the original lanyard
Thank you for reading this article! Another article about knife!!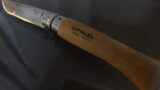 キャンプナイフ【OPINEL(オピネル)ステンレススチール♯10】
キャンプナイフの定番であるオピネル(OPINEL)は、シンプルなデザインで、コンパクトに持ち運べるおすすめのナイフです。